Choose The Right Tiles For Your Office: A Complete Guide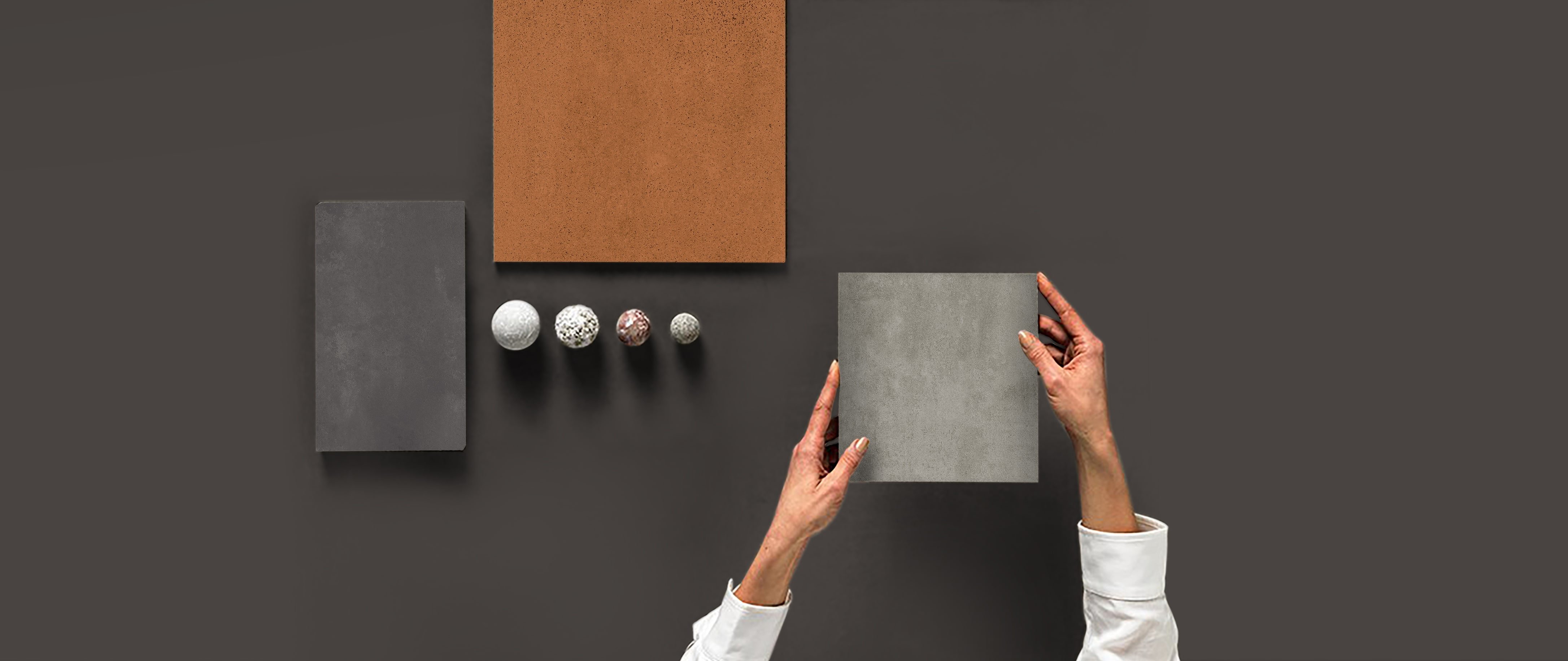 Your office space flooring is integral to representing your brand, working style, and company image.
Choosing the right office floor tiles design may sound like a chore, but a simple mistake causes nuisance later and can make you lose a chunk of money.
Looking at different aspects while considering a perfect tile flooring for office space is necessary.
Your company's interior should speak volumes to your clients and employees to make them stay and encourage them to work together. But picking the perfect tiles can be quite a task.
So in this blog, we have highlighted some important factors to consider while choosing floor tiles for your office.
8 Factors To Consider While Choosing Office Floor Tiles
We overlook many factors while looking for a perfect tile for our workspace. Since offices receive higher foot traffic than our homes, looking for a resilient and practical option with a great wall and floor tile design is necessary.
So, consider the following factors before choosing the best office tiles for your workspace.
Foot Traffic
One of the most important aspects to consider while selecting the best floor tiles for the office. Lower-grade floor tiles can crack and look shabby and cost you more than their initial costs.
Moreover, office tiles come under commercial-grade flooring, which is more durable and sturdy than the tiles we use at home.
Every room in your workspace receives different footfalls; for example, the reception area and corridor receive the most visitors, while the conference or meeting room receives the lowest.
Consider heavy-duty tiles like porcelain, vinyl, polished concrete, and granite in high-traffic areas.

Whereas a luxury carpet, softwood flooring is best for conference or meeting rooms.
Maintenance
Installing floors is not enough. You require regular maintenance to make your office tiles look fresh and new.
Stained, chipped tiles or visible scratches on the floors would create a bad first impression on clients. And sometimes maintenance costs are higher than installing costs.
The office has more foot traffic, so floors need extra attention to prevent chipping and wear and tear. So be critical while choosing material for office floor tiles.
Note that light colours stain quickly as compared to dark colours. Choose neutral-coloured tile for the office.

Just a regular cleaning can make your tiles breathe longer.
Budget
Before jumping to any further conclusions, consider the life-cycle cost of each option, not just the initial cost. After buying a cheap product, we tend to pay double its price to maintain it.
Creating aesthetics is good, but going over budget is not a good financial decision. It's a workspace you don't want to make your staff lose their concentration.
It would be best if you have durable and functional tiles with appealing looks.
Consider office tile flooring, which lasts long, can withstand high traffic and is easy to maintain at an affordable cost. Or you can talk to an expert to choose the best.
Safety
Along with the elegant look, tiles also need to be functional. One of the most important factors to consider while choosing office flooring tiles is whether the tiles are slip-resistant or chemical-free.
No one wants their employees to get hurt or injured slipping because of liquid puddles or wet floors. To avoid this, opt for slip-resistant office floors.
For example, your kitchen and washroom areas are prone to liquid spills, or high-traffic areas such as corridors and reception may also require slip-resistant tile flooring.
Before reaching any conclusion, carefully understand the government guidelines for office flooring.
Business
The next thing to consider is the nature of your business. The type of business you own scratches out numerous options from the list.
For instance, if you own a normal IT firm, law firm, or management company where you can expect numerous clients in a day, you can opt for high-end flooring options, which are durable and require less maintenance.
Or, if you own a warehouse where a lot of material is stacked in piles, opt for much harder flooring. Or, if you are running a factory, avoid using carpet tiles, as they can get quickly ruined from oil spills or dirty boots.
Comfort
We spend our whole days in the office, which sometimes extends to overtime shifts, which takes up our whole energy.
Do you know, just by making the surroundings comforting, you can increase employees' working efficiency? It's true.
Workers do not want to look at bare floors that feel hard or cold underfoot. Employees want a comfortable and inspiring environment to work, discuss new ideas, and be creative while crafting business strategies.
Comfortable flooring with office aesthetics can attract your clients and encourage employees to work more enthusiastically.

Tiles with rustic and matte finishes create an ambience to work.
Style
The ability to be functional and stylish can go hand in hand. Office flooring tiles come in different styles: traditional, elegant, vibrant, sleek, vintage, and many more.
Perfect flooring can give the whole place a completely different look and make the space more lively, so while making plans, don't leave the flooring option blank.
A perfect match of flooring with artistic walls and lighting can make the style statement.
You can go for geometric patterns, which are quite trendy nowadays.

Or you just go with minimalism. Minimal furniture with a spacious office and calming floor and wall designs give the whole place an aesthetic view.
Size
You need the best tiles for the office that are functional as well as stunning, but what size would be the best? In our opinion, large format tiles are the best for commercial space. Why? Here are the reasons.
A Seamless Continuity:

Large-format tiles will allow seamless uniformity. Installing large tiles means fewer tiles to be installed, resulting in fewer groupings. These create visual continuity and a stylish look.

Looks More Spacious:

Large-format tiles will make a small room more spacious and cleaner.

Versatile

Due to its size, a large format tile can be cut into any shape and size, which is not only limited to floors and walls. These tiles can also be your workstation, kitchen countertop, backsplash, or whatever you want.
Lioli Ceramica is home to a wide range of large-format porcelain tiles to suit your office and residential areas. Our wide collection has everything to offer- from modern and classy to rustic-themed slabs. Click here to get a good view.
What Type Of Office Floor Tiles Should You Refer?
Whenever you think about upgrading your workspace, you will be left with numerous options to choose from to fit your working style, business, and personality. So we have listed some most effective tiles for office space.
Porcelain

Porcelain tiles can be the best office tile flooring option; their resilient nature and elegant looks got them a point of appreciation.

As a material, porcelain is dense, thick, hard, scratch-resistant and non-porous.

Porcelain's non-porous nature makes them withstand moisture and stains.

Porcelain can bear high-foot traffic for a longer duration.

Besides, porcelain is available in different finishes, textures, designs, and forms.

Lioli Ceramica offers a wide range of porcelain tiles in different textures, sizes and colour combinations. We have solutions for all, whether you want to try something out of the box or go for a formal appearance.

Ceramic

Ceramic tiles can make your office space brighter with their diverse range of colours, patterns, designs, textures, and sizes. They are moisture-resistant, durable and easy to clean.

Ceramic tiles can create a nuisance during the replacement of cracked tiles. Moreover, these tiles are heavier and lack noise insulation options.

Vinyl Tiles

Vinyl tiles are the most popular option for commercial flooring due to their durability and high functionality.

Vinyl tiles are also waterproof, have hard surfaces, and are abrasion-resistant.

Vinyl tiles are easy to clean and maintain.

They came in three forms: sheets, tiles, and planks in different colours and designs.

In contrast, vinyl tiles cannot be refinished due to their complex structure. and after installation in the initial days, they emit VOCs.

Carpet tiles

Carpets or carpet tiles can make space look warm and cosy. They come in different styles, designs, and colours and are easy to install.

Office carpet tiles are easy to clean; unlike carpets, you can easily replace deeply stained tiles. They are durable and have low maintenance.

The carpet tile may look nonuniform due to the different textures and patterns. And, they are not suitable for areas with higher footfall.
Final Words
An office is one of the brand's focal points. Its interior and every element should represent your brand.
From numerous options, you can either choose the same flooring for the entire office to create uniformity or choose different ideas for different office room floor tiles according to their different ambience.
Whatever office flooring you choose, ensure it fits all the above factors. So, consider asking manufacturers or an expert for advice while taking a big step.
Walk through Lioli Ceramica Stunning Porcelain Slab Collections To Pick The Perfect Office Tiles
Within four years, Lioli has launched numerous porcelain slab tile collections with greater functionality and an elegant look to make your office space more welcoming. Our porcelain slabs come in different finishes, designs, colours, and sizes.
Our marble effect porcelain floor tiles can give real marble effects and great functionality at half the price of actual marble floors. Our collection ranges from dark to light colours.
Our wooden effect tiles create an ambience to work more enthusiastically. Well, not actual wood, but they came with the same aesthetics as the real one, with moisture resistance and low maintenance.
Browse through our amazing porcelain floor and wall tiles collection.

Latest Blogs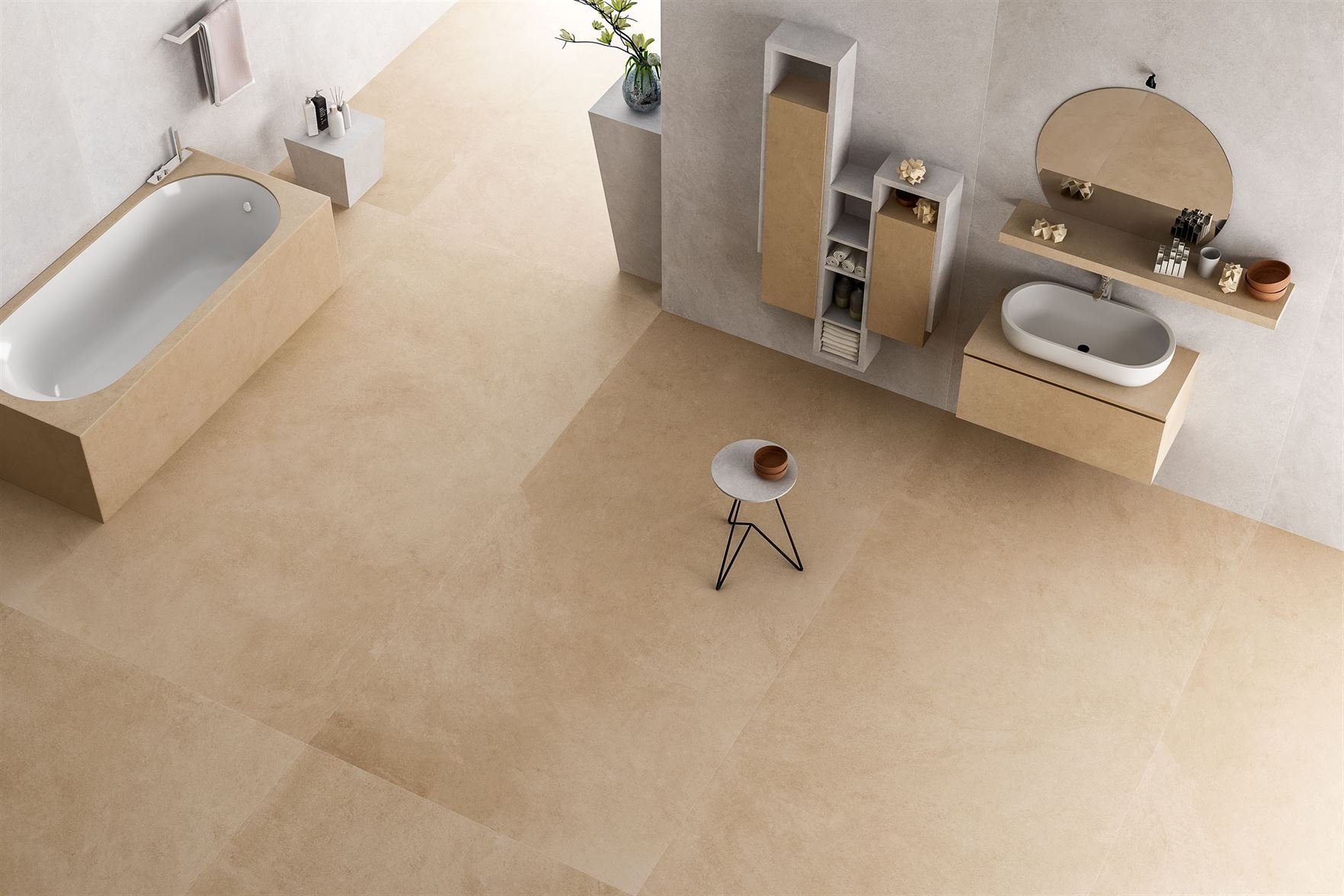 How To Clean Porcelain Tiles
Porcelain is a highly durable flooring that doesn't need much maintenance and cleaning. Boasting the attributes of being scratch, stain, and water-resistant installing porcelain tiles provides an advantage over ...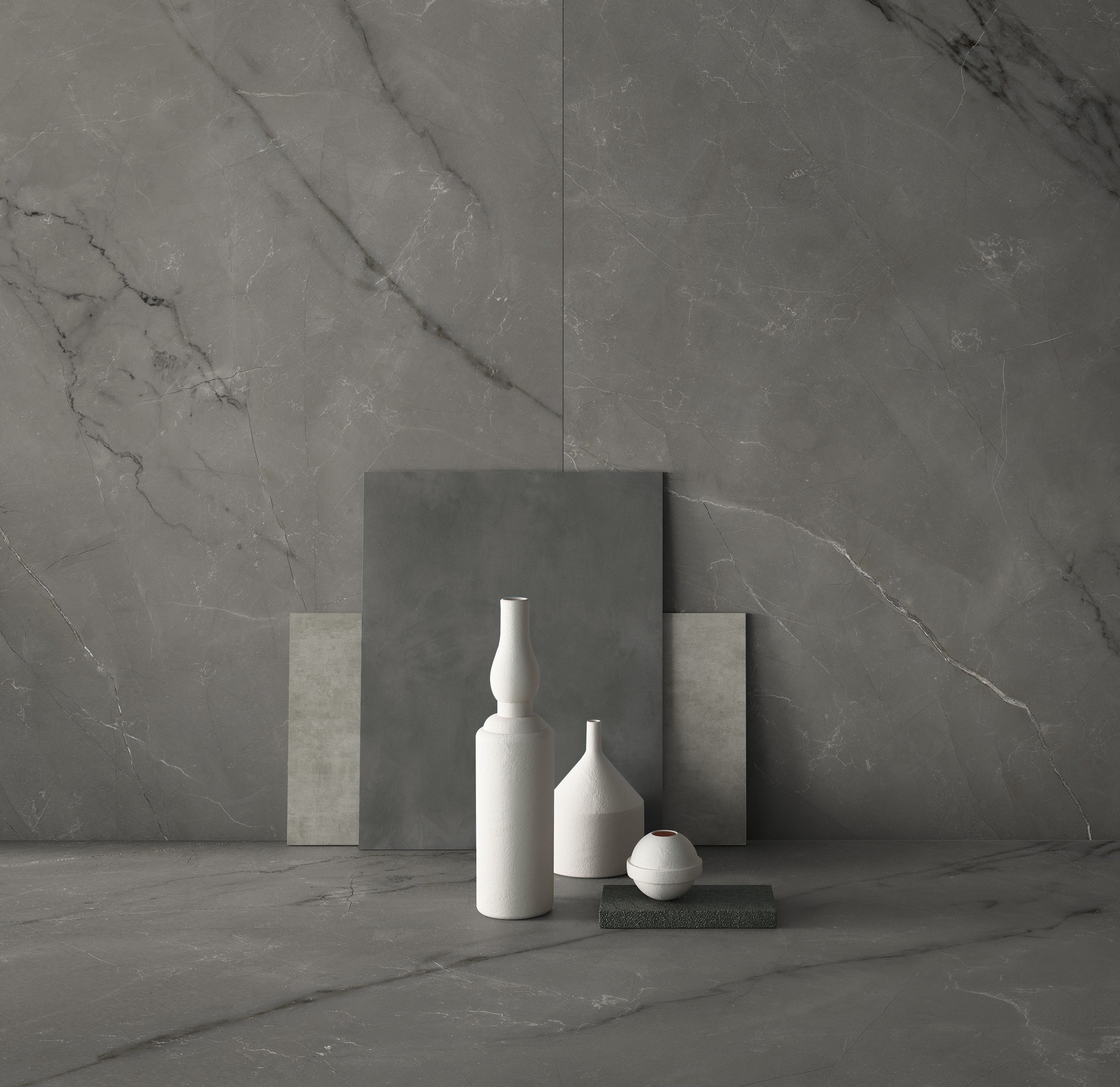 Why Porcelain Tiles are Better Than Natural Stones.
Whether to renovate the bathroom or install new tiles in the lobby or laundry room, they spend a lot of time deciding between using natural stone or porcelain tiles...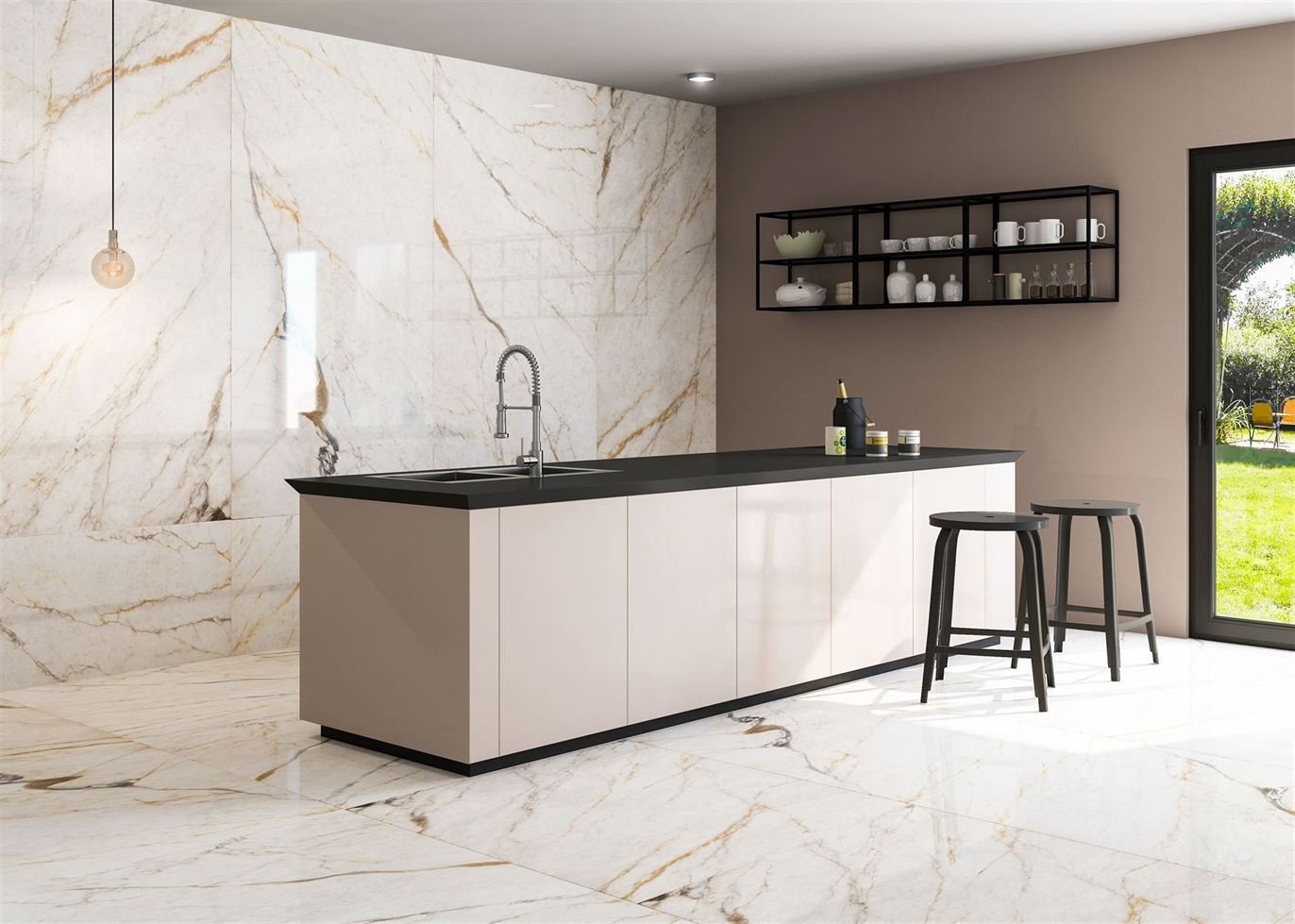 Kitchen Countertops 2022 Design Inspirations
Do you want to change the look of your kitchen in 2022? Then start with the kitchen countertops, the heart of the kitchen. Obviously, if you are investing a hefty ...